LG G8 ThinQ
$849 (unlocked, deals below)
Design

Features

Performance

Camera

Battery
Pros
Premium durable build that doesn't shatter at the slightest impact (like the Galaxy S10!) Optimized Internals makes the G8 one of the fastest smartphones of 2019 23-bit Hi-Fi Audio DAC Audio Hand ID is cool way to unlock the G8 Z-Camera's Face Unlock is as good as Apple's Face ID
Cons
Air Motion isn't really useful
LG has reached the 8th generation of their G Series flagship in the LG G8 ThinQ. An Android flagship known for "being a jack of all trades", we take a brief look at the device to see if it has improved enough to be the best flagship of 2019 or just incremental upgrades to a smartphone series that has struggled since the innovative LG G4 .
This is the LG G8 ThinQ.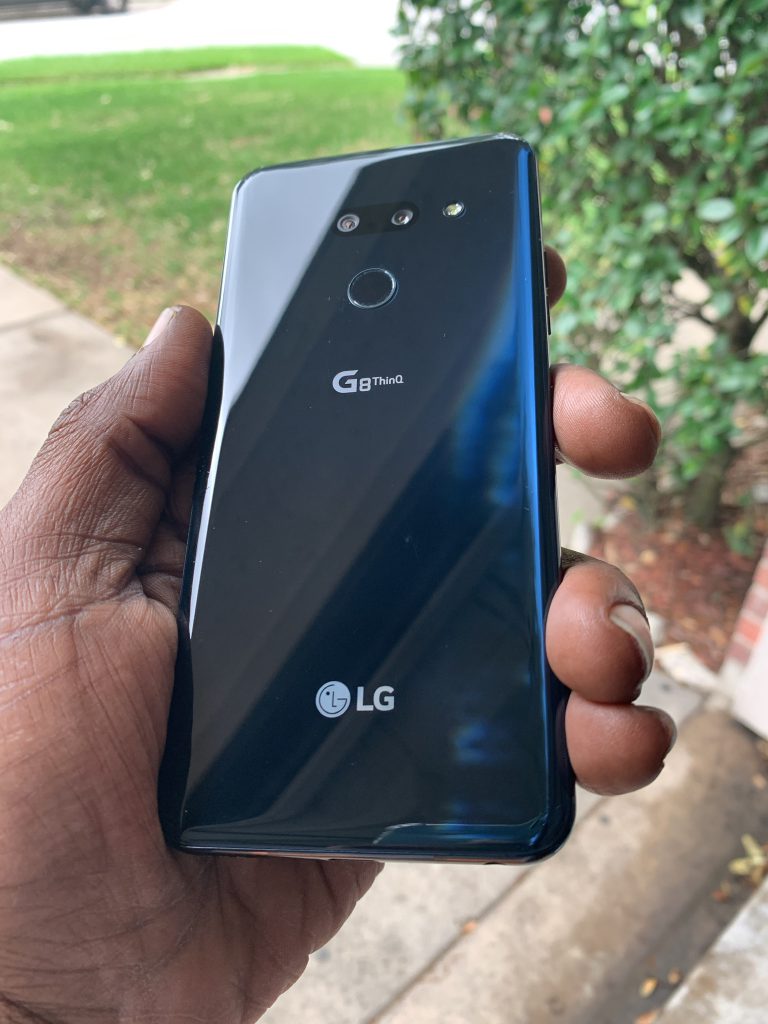 LG G8 build and performance
Category
Specs
Build Materials & Quality
Metal (Aluminum) Glass (Gorilla Glass 5 on front, Gorilla Glass 6 on back),
IP68 Dust and Water Resistant,
MIL-STD-810G Shock Resistance
Display
6.1″ QHD+ OLED FullVision Display
(3120 x 1440, including notch); 564 ppi
19.5:9 Aspect Ratio; 83.1% screen-to-body ratio
RAM
6GB DDR4X
Processor &
Battery
Qualcomm Snapdragon™ 855 Octa-core (up to 2.84 GHz x 1 + 2.42 GHz x 3 + 1.79 GHz x 4)
3,500 mAh Non-Removable
Cameras
Rear:
Standard Angle Camera -12 MP
Super Wide-Angle Camera -16 MP
Front: 8 MP Standard

Connectivity
Network:LTE/UMTS/GSM/CDMA
802.11 a/b/g/n/ac
Bluetooth 5.0
Storage
Internal Memory – 128 GB
Micro-SD card slot
The Glass front and back meet the aluminum side railing seamlessly to create a slick unibody build that comes off ultra-premium. There's no camera hump, as dual lenses sitting under the glass back and the flush fingerprint sensor gives the G8 the slickest backside of 2019. So slick in fact, that you CANNOT lay this device on any flat surface without it slowly sliding off. Make sure you get a case and screen protector ASAP, like the slim-profile VOIA Premium Case and *** pictured below*
The 6.1 QHD+OLED display has a resolution of 3120×1440 which comes out to 564 pixels per inch. The P-OLED display is a first for LG's G series which usually used LCD displays prior to the G8. The deep blacks and bright contrasts on display (pun intended), broad color gamut and bright whites certainly are an improvement over the LCD display. The quality even runs a pretty close race to Samsung, but it not quite there yet on LG's smartphones. Why the company can't fully utilize the talent in LG's Flat-screen TV display division in the mobile devices they produce is beyond me.
Air Motion and Hand ID: Z Camera innovations or flashy gimmicks?
The Z Camera brings a lot of functionality to the LG G8, and it's a commendable introduction to 1st generation tech.
…
LG has equipped it's front camera array with 3D sensors that enable touchless control, security features,and enhaned selfies. The Z Camera, as LG calls it,also has a TOF sensor that sends and receives depth info for more realistic bokeh portraits. But what LG wants you be most excited about, is Air Motion and Hand ID.
Hand ID, allows adds palm reading to your biometric security options by reading the vein patterns in your hand to unlock your phone. Infra-red beams confirm the subject is alive and well hy the hemoglobin in your blood. Cool stuff indeed. Of course, all of this tech coupled with the depth sensor makes for 3D face recognition that could rival Apple's Face ID.
Air Motion, the ability to control launch apps like the Music App and YouTube, control volume,or start and stop videos as well as answer/decline calls,snooze/dismiss alarms,etc. While it's cool in theory and even innovative, it's mildly executed and half-baked. IF you get the hang of it- it's difficult to reason the scenario the feature would ever come in handy besides showing off what your smartphone can do to friends and family.
Overall, Hand ID is awesome and a great addition to the G series and the Z-Camera's face recognition is something that actually performs like similar to Apple's Face ID. But Air Motion feels more like a prototype that's a work in progress than a feature ready for prime time. Maybe software updates can add to the functionality of Air Motion down the line, hopefully.
Performance and Benchmarks
One thing that the G8 has going for itself, is class-leading performance. Although the Snapdragon 855 in the G8 scored around 500 points below the iPhone XR's A12 in Geekbench's Single-Core Score, it was within 100 points in the Multi-Core score – while besting it's Android counterparts across the board. The Antutu Benchmark screenshots demonstrate LG engineer's gift for optimization on its current flagship device.
As you can see, the G8 is at the top of the food chain in Antutu Benchmark, scoring 349383- 17000 points higher than the Galaxy S10+.
…
Conclusion
The LG G8 is a 2019 flagship in every sense of the word. It comes with wireless charging, military grade durability, it's water-resistant while retaining still it's SD Card slot, and it has a 3.5mm headphone jack with a 32-bit HiFi quad-DAC. It has all the makings of your next device, it ticks all the premium feature boxes, and adds a few more innovations along the way. But the original retail price…it's just too high. Not that the G8 isn't worth it, but for LG to price their devices in the same range as Samsung and Apple flagships at a time when most are critical of their prices, it's beyond reason. On one hand, I get that they do so to insinuate the quality and value is comparable and LG is a "name-brand" brand. But I feel LG would do so much better if they priced their devices to undercut the market leaders. Right now you can get the LG G8 from Sprint for $8 a month on an 18-month lease plan, or $840 outright. The best long-term deal is with T-Mobile, which offers the G8 for 50% off with qualifying trade-in or by adding a new line, or you can buy it outright for $619.99 (+ tax).
Alternatives
There are lots of worthy alternatives to the LG G8, but we'll just focus on the ones you will most likely come across at your average U.S. carrier.
Samsung Galaxy S10 or LG G8 ThinQ – The G8 has a battle on it's hands with the S10. It's an even match as far as flagship specs go, and some could even argue LG's Hand ID is more innovative than Samsung's Ultrasonic fingerprint scanner beneath it's display. But the way Samsung likes to 'throw everything but the kitchen sink' into their flagships, trumps LG's 'throw everything at the wall to see what sticks' approach this time around. What to pick…Infinity-O display with a punch hole front camera that results in 93% fullscreen or P-OLED with a tiny notch that conceals a TOF camera? HDR10+ certified flagship with 8GB RAM for it's base model, or the smartphone with the Hi-Fi Quad DAC and 6GB RAM? Decisions, decisions.
Apple iPhone XR or LG G8 ThinQ – The best selling iPhone of this generation is a logical option to the LG G8, if for no other reason that they are priced similarly at retail. Setting the differences between iOS and Android, the G8 has tons more features than the XR. It has twice the amount of RAM, an extra rear and front camera lens, a 3.5mm headphone jack with a Quad DAC and expandable storage. But Apple's optimization between it's hardware and software results in a smartphone that's a member of the most powerful family of device's (XR,XS,XS Max).
Google Pixel 3a XL or LG G8 ThinQ – Now that Google has entered a horse in the race that shows they are taking their market share serious and not just releasing reference devices, every manufacturer should be concerned. For $479, the Pixel 3a XL offers a Snapdragon 670, 4GB Ram, 64GB of storage, Android system and security updates straight from Google, and what's widely considered as the best smartphone camera available today. Luckily, with everyone from T-Mobile to Verizon offering specials on the G8 for as low as $620 – LG has crammed enough features into their latest flagship to entice some new customers.