UX/Design

Sound Library

Features

Stability

Price
Summary
Apple's flagship music making DAW and big brother of GarageBand. 
Pros
Large Collection of effects and instruments Smart Tempo,Flex Time and Flex Pitch are invaluable tools 7000+ Loops from every genre included Deep Integration with GarageBand for iOS Rock-Solid Stability
Cons
What originally started out as an app on PC is now Mac Only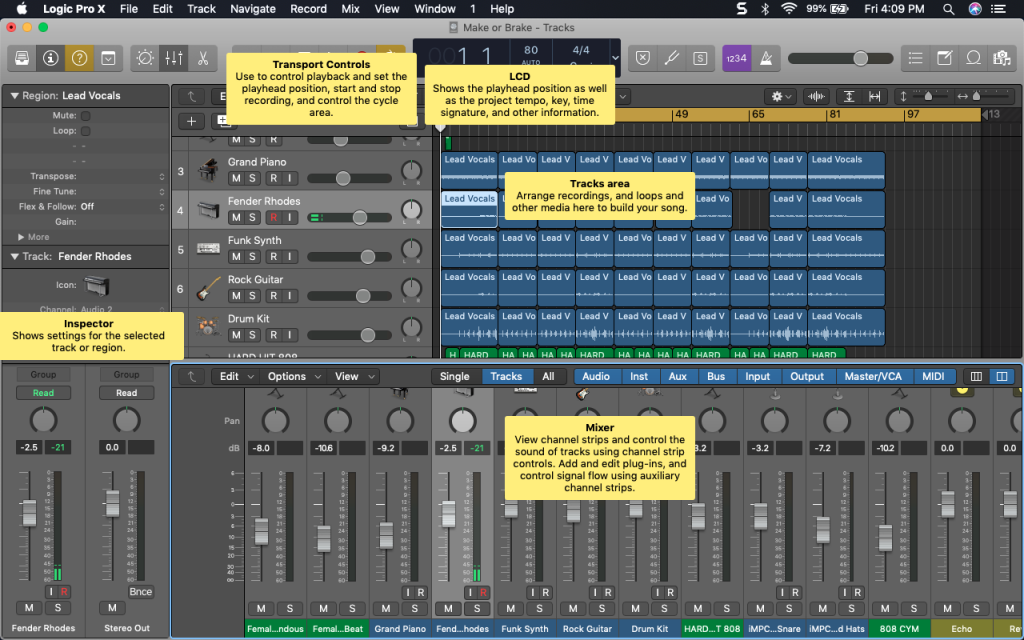 The once multi-platform /now MacOS-only DAW reaches version 10.4.2, which brings a ton of useful features to what has been known as 'One of the most complete DAWs available' for music and post-audio production.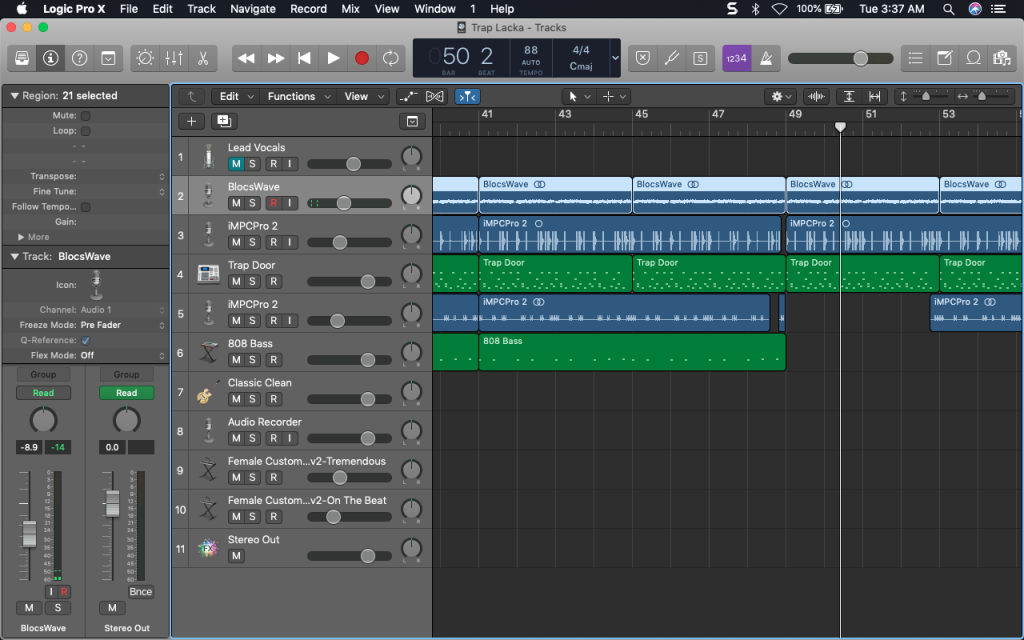 What Is It?
Logic Pro X is a step up from the ever-popular GarageBand for Mac/iOS, offering more tools and features for professional musicians, producers and engineers who work with pro audio. It is developed by Apple, and may very well represent the best value for money in the entire world of digital audio workstations.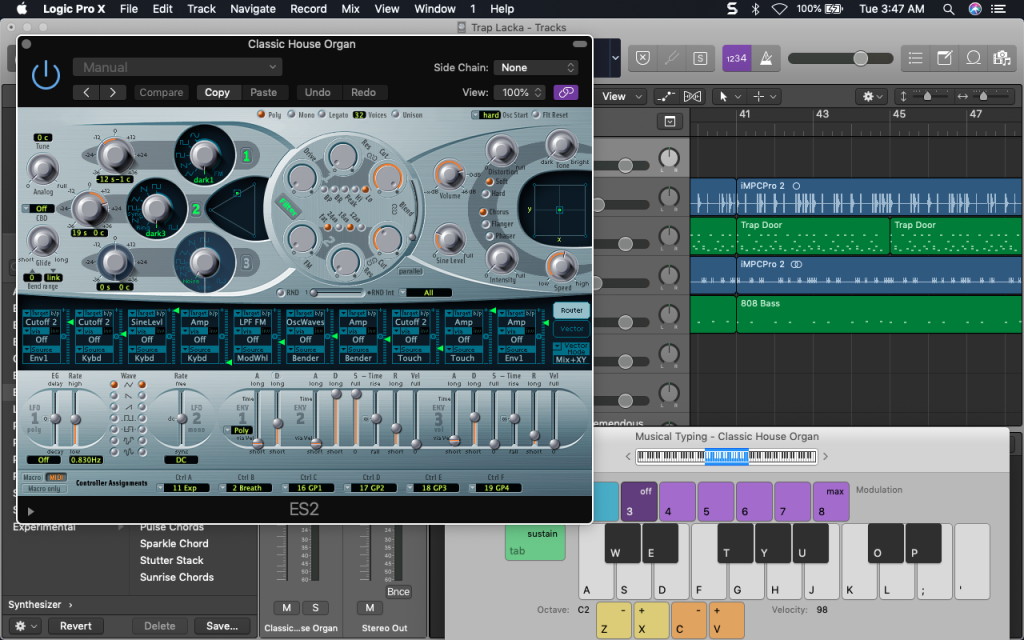 Instruments & Effects
ES2 (pictured above), and Alchemy (below) are just two of the virtual instruments available in Logic Pro X. While the former is a "versatile synthesizer" with a synthesis engine that has wavetable and analog-modeled oscillators, the latter (Alchemy) is presented as Logic's flagship sample-manipulation synthesizer.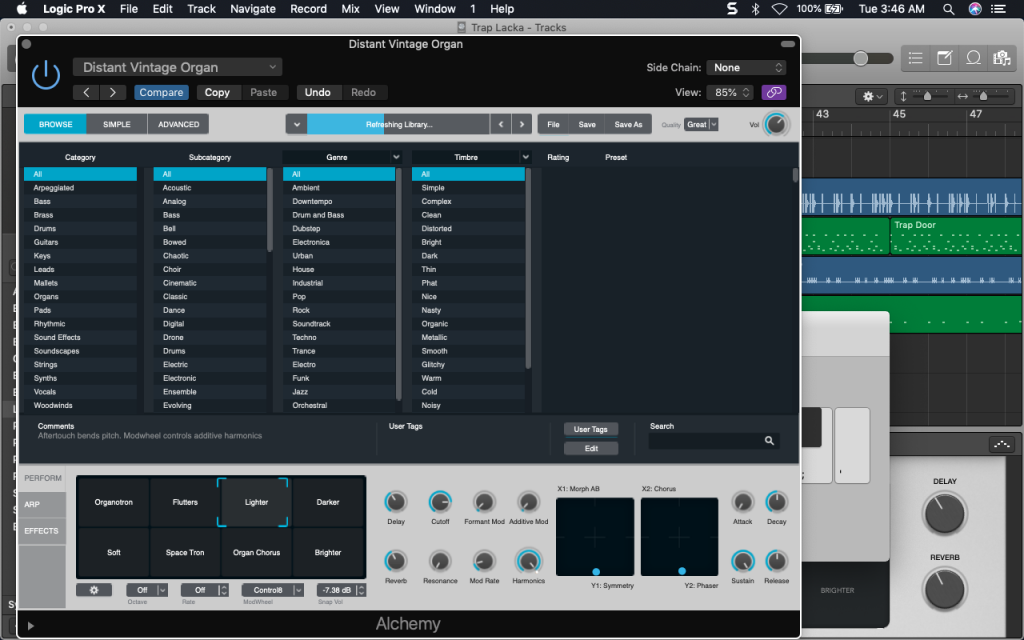 This is the same Alchemy that was originally developed by Camel Audio (Apple also acquired CamelSpace and CamelPhat, more on that later) and is also available within GarageBand for mac/iOS and its a beast of an instrument. Other noteworthy instruments are Sculpture – a "unique physical modeling instrument that produces tones no other synthesizer can", the EXS24 Sampler,Studio Strings and Studio Brass, and the Vintage Keyboards collection. Drum Machine/Drum Kit Designer handles your custom percussion ambitions.
Effects are just as ingenious and innovative, such as the new ChromaVerb – which is a high-end reverb plug-in that use "unique modeling to reproduce both natural and otherworldly acoustic spaces". Other interesting fx include Pedalboard, an amp modeling plug-in, Bass Amp Designer, StepFX, and PhatFX.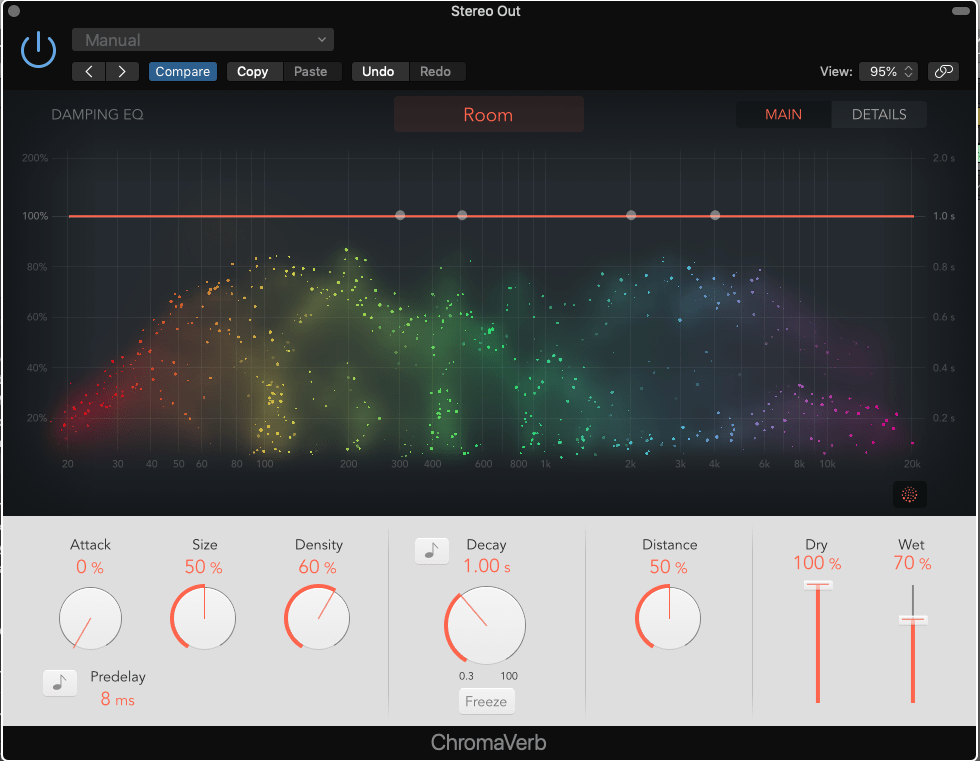 Additional Features
Logic Pro X also allows for you to import GarageBand sessions from iCloud, AirPlay, or however you can transfer your sessions from your iOS device. There are other useful features that you can't really find in other DAWs, like Smart Tempo – which manages tempo across all the content in your project. Without a metronome/click track, you can sync, combine and edit audio regardless of it's original tempo or variations in speed. Then there's Drummer, which adds a virtual session drummer , or a beat programmer to your production session;Or the useful Logic Remote ,which turns your iPhone/iPad into a midi controller, control pad, or mixing board.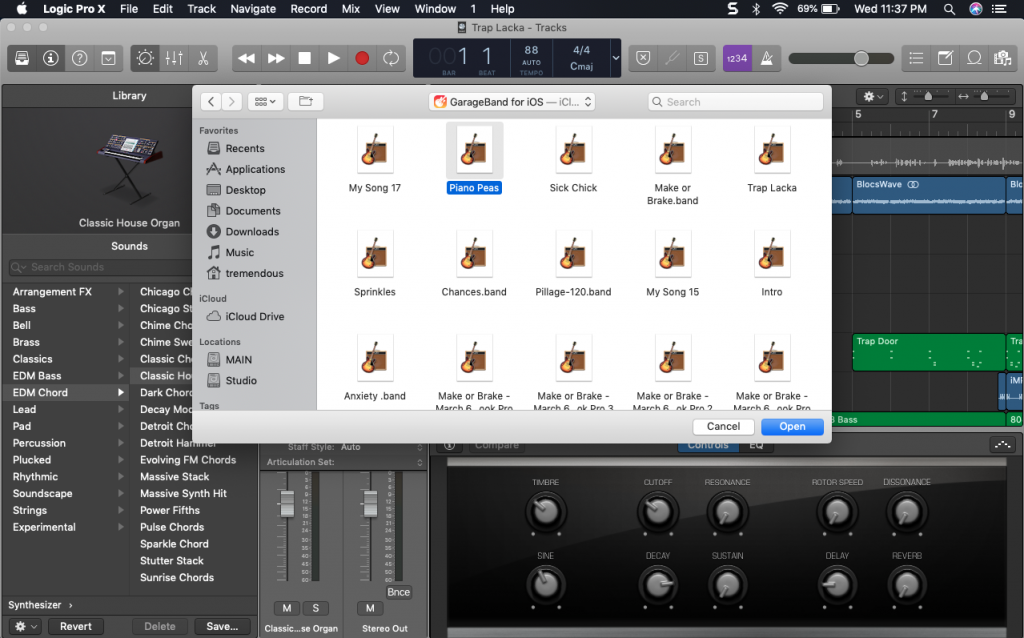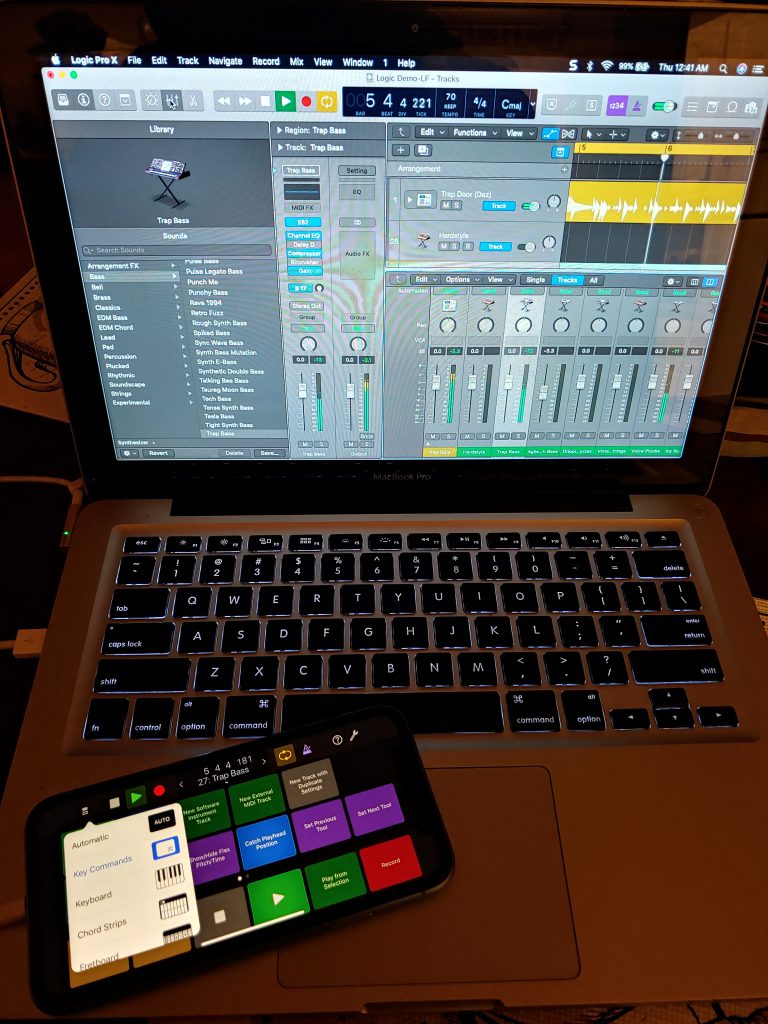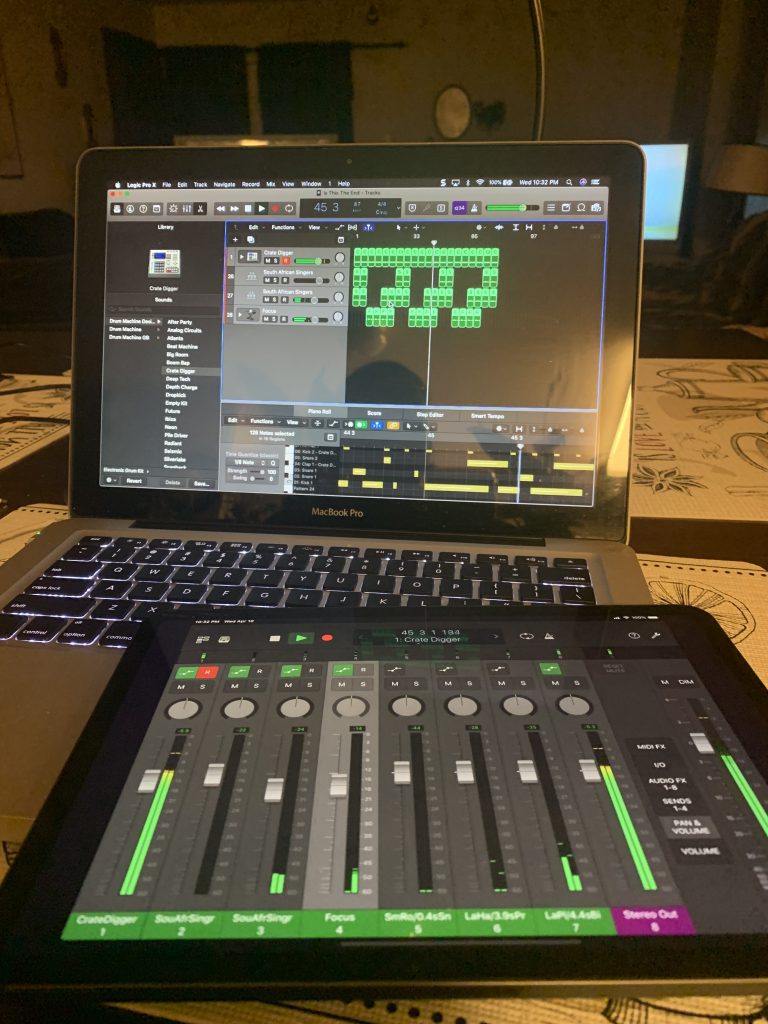 Conclusion
Logic Pro X is one of the most advanced, complete Digital Audio Workstations available. It's not available for Windows, but if you have a Mac that you intend to make music with – you'd be pressed to find a program to compete with its $199 price tag. It has the best virtual instrument collection included with the program, and the complete set of editing, production, and mixing tools as you would expect. For developers with ambitions of making the most complete music production software, Logic Pro X is the program to beat.