User Interface

Tools

Features

Stability

Price
Summary
Serif's updated version to PhotoPlus, and answer to Photoshop. 
Pros
Feels and looks futuristic PSD and PSB import and export Layer Studio adds high layer integrity Photoshop Plug-In Support
Cons
No Video Editing features like PS Extended
Affinity Photo, is available for iOS, Windows, and MacOS, at a one-off price that matches a one month subscription to Adobe's Photoshop. Will Affinity's photo editing tools and features make you question Adobe's sanity, or is Affinity Photo just another knockoff? Keep reading to find out my take in our official review.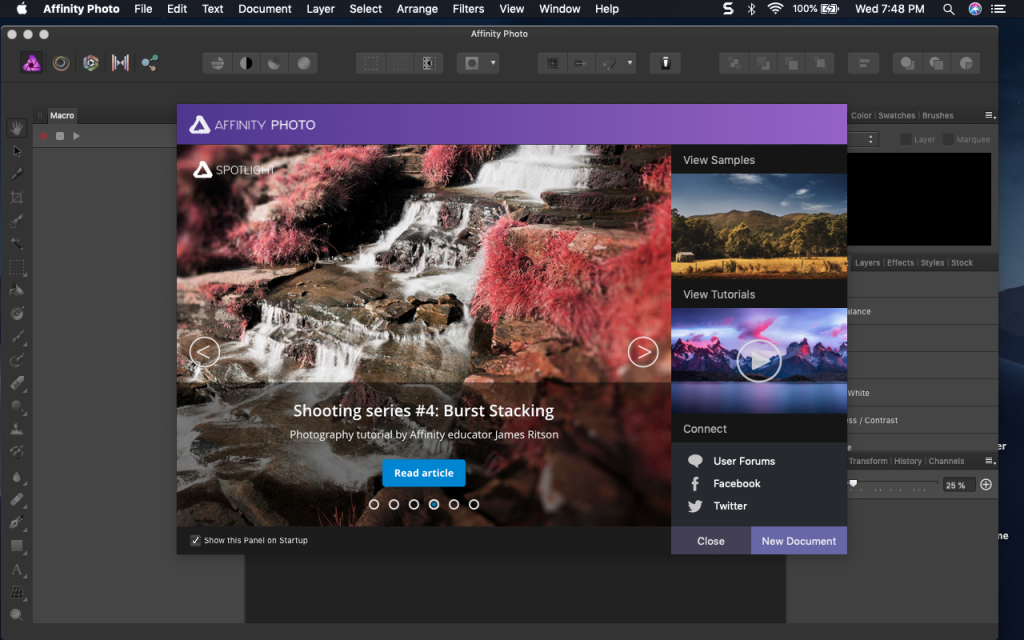 Serif is pairing off it's Graphic Illustration software Affinity Designer, with it's photo perfecting, image tweaking counterpart Affinity Photo. It does just what its name implies, and it's a program that I anticipate amateur and pro Photographers alike having alot of Affinity for.
There is just about every type of creative and technical tool for photo editing that you could think of, and some innovative ones that Serif came up with that no one has until now. Extensive Bitmap editing? Check. Negative Image Healing and Restoration? Check. Built-in Histogram with comprehensive level adjusting tools? Check and Check. Just when I thought Designer had all the tools a visual designer would ever need, I'm proven wrong. And I tip my hat to the Affinity Team, in Photo they take the Persona Workflow even further.
Multiple Persona -lity
The Persona tools, is Serif's way of categorizing common tasks into workflows that simplify the creative process by eliminating the need for excessive right-clicks and menu digging. It's also about making macro buttons for tasks that are usually a five step process in alternative programs. The first in the toolkit is more aimed at creative uses, the Liquify Persona. It offers the ability to add warping and deforming to your images, a term known as Liquify in Design ciphers
The next tool in the process is the Develop Persona, which gives you more traditional editing tools, such as bitmap doctoring and restoration features. This is the view where most of the "Photoshopping" would take place.
The last in the creative processis the Tone Mapping View, where you can adjust the RGB output and correct any blemishes in your image negatives to get the perfect look for your images.
The Export Persona helps you prepare your design for real-wrold presentation, tweaking your creations for web,print,or animated file formats.
iPad Version
Affinity Photo has an iPad version, which in some ways presents itself as a mobile,complementary app to the desktop version. With features like 2048 pressure- sensitivity, palm rejection and a touch first UI – in no way does it come off as a stripped down tablet version.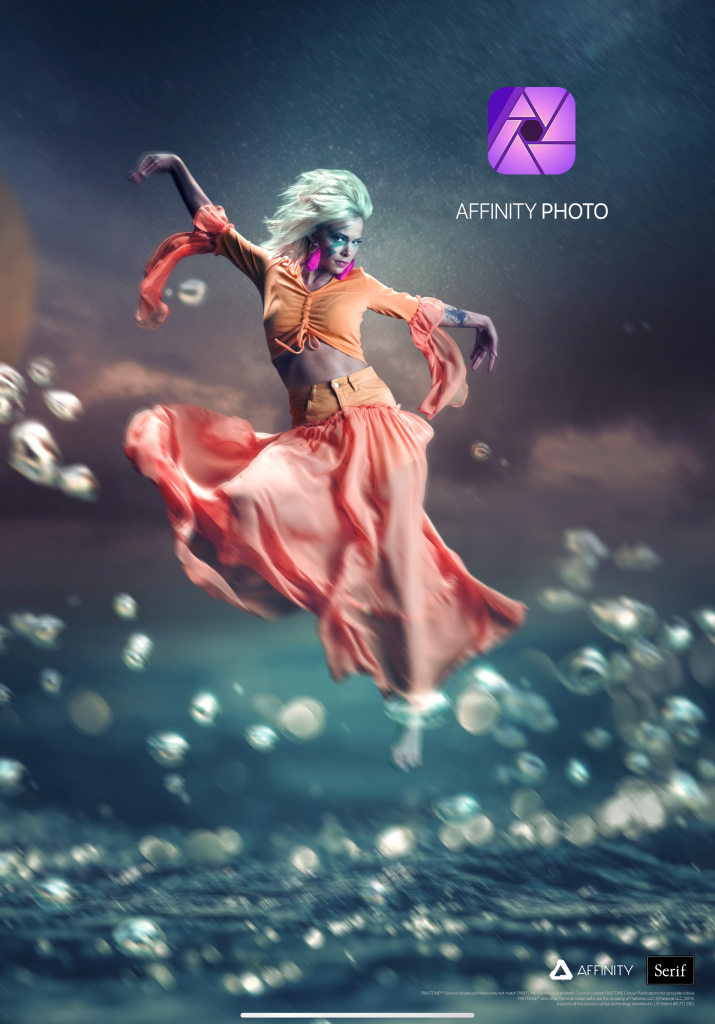 Affinity Photo
An Extensive Photo Editor
After spending 6 months working with the Affinity programs Designer and Photo – I conclude that Adobe has an uphill battle on their hands. These two programs (Designer and Photo) cover 77% of the case uses that one would use the Adobe Creative Suite for, but you could purchase either for the cost of a 1 Month subscription to Adobe CS. For 2 month subscription, you could buy both – and I am certain that Affinity Publisher, Serif's new addition to the family makes question of which pay model offers more value for your money a no-brainer.
If you already have your Video editing and Web Design tools covered and need a program that allows you to go all out and cover your post photography needs, you might want to take a look at Affinity Photo. It just may be all the Photoshop you'll ever need.